1923
In 1923 the Alliance came into Mali and planted churches all along the Niger River eventually reaching Timbuktu. As the early missionaries preached and taught they were confronted on every side with incredible health needs.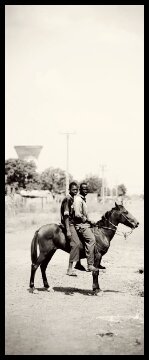 At first they began treating people from their front and back porches. Then missionary nurses joined the team, treated patients and started training Malian men and women to assist them in caring for the huge medical needs. Over the years, six rural outpatient clinics were built.
70's
In the 70's free standing maternity centers were established along side of these clinics, enhancing their capacity to give quality medical care along with the message of salvation in Jesus Christ.
Early '90's
In the early 1990's the clinics (pics) became organized under a medical committee and some of the employees entered the government and private nursing schools around the country. As they finished their training, they were able to take over the supervisory roles in the clinics, formerly held by the missionary nurses.
End of '90's
As the 1990's came to an end, the medical committee's responsibilities were assumed by a newly created NGO, CPAM (Center Protestante for Assistance Medical). At this time, Missionaries and nationals began to take the steps to transform the long time dream of creating a hospital where high level health care would be provided, into reality. Builders and medical people on both sides of the ocean hammered out the plans, and fleshed out the dream.
2002
In 2002, with only $1000 in hand, land was found and purchased and construction (pics) began. Many teams came out to help build and funds were provided by our worldwide CMA family. And the dream began to take shape as the first building rose from the Malian soil. God moved in the hearts of others who financed the second building which was to be used to provide desperately needed pediatric care.

In May of 2006 the hospital opened its doors! Since that day the original desire to give quality care, to share the Good News of Christ and to train Malians has continued. As the word spreads in the community, each year sees a significant increase of patients seen, number of babies born and number of surgeries performed. And some men and women are coming to know Jesus Christ as their Savior!
In the fall of 2009 we were able to fully open the Pediatrics building giving outpatient and inpatient care for children (50% of the population of Mali).
From 2009  to 2011 construction continued on the Maternity Complex. When we began to use this in Jan 2012 it more than doubled our bed space and gave us three operating rooms, instead of the single one we have at present. 

In mid 2011 be began to provide limited dental care, welcomed a maxio-facial surgeon and comtinued to do mobile village clinics and evangelistic outreaches far beyond the walls of the hospital.