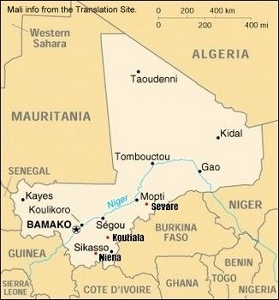 From Operation World, 2001 and 2010, by Patrick Johnstone and Jason Mandryk
Both Protestant and Catholics have grown slowly but steadily in the last two decades with significant numbers of converts from a Muslim background. However, the number of Christians has not increased by enough to keep pace with Mali's rapid population growth. 
Material poverty limits funds for training and supporting pastors so Bible schools in the country are struggling. Pray for the rapid growth of believers in maturity and numbers in this day of opportunity. Pray for a decisive breakthrough among the more Muslim peoples.
Of the 34 ethnic groups, only four are more than 1% evangelical. Evangelicals are strongest among the Bambara (1.1 %); Bobo (2.9 %); Dogon (3.5 %) and Senufo/Manianka (3.8%) with groups of believers in 19 other groups.  There are 11 groups with no known evangelical believers.
Christian specialised and support ministries: Bible translation, cassette tapes, Christian programs on Radio Mali, literature/literacy, the Jesus film, Bible correspondence courses.
Pray for the many agencies involved in relief; local development to conserve soil, vegetation, and water; digging wells; and medical outreach. Even so, there are only 903 medical dispensaries of any kind in Mali in contrast to 1,001 Qur'anic schools. Pray that these ministries might bear much fruit in the form of a mature, witnessing church.

From CIA website


Economy
65% land area desert or semidesert
 
One of the poorest countries in the world. Highly unequal distribution of income.
 
10% population nomadic, 80% labor force engaged in farming and fishing  
 
Heavily dependent on foreign aid
Geography
Climate: subtropic to arid
 
Resources: gold, phosphates, kaolin, salt, limestone, uranium, gypsum, granite, hydropower  
 
Land use: arable land 3.76%, permanent crops 0.03%, other 96.21%  
 
Natural hazards- hot, dust-laden harmattran haze commun during dry season, recurring droughts; occasional Niger River flooding  
 
Environmental Current Issues- deforestation, soil erosion, desertification, inadequate supplies of portable water, poaching  
 
Agricultural products: cotton, millet, rice, corn, vegetables, peanuts, cattle, sheep, goats  
People 
Infant mortality (total 102.05 deaths/ 1,000 live births
 
Total Fertility Rate: 7.29 children born/ woman (2009 est) 
 
HIV/AIDS Adult Prevalence Rate: 1.5% (2007 est) 
 
Major Infectious Disease: Very High Risk 
 
Food or waterborne diseases- bacterial and protozoal diarrhea, hepatitis A, and typhoid fever
Vecterborne disease- malaria
Water contact disease- shistosomiasis
Respiratory disease- meningococcal meningitis (2009) 
 
Religions: Muslim 90%, Indigenious beliefs 9%, Christian 1%  
 
Languages: French (official), Bambara 80%, numerous African languages
 
Literacy: definition: age 15 and over can read and write Total population: 46.4% Male 53.5% Female 39.6% (2003)est.