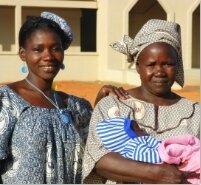 In Mali, thousands of women die in labor each year. Even in large population centers, Malian women continue to die from complications of childbirth. The existing rural clinics established by the CMA were unable to help women in need of advanced medical care and over the years a vision grew for a higher level health facility.
Some years ago, a pastor's wife died during childbirth in the city of Koutiala, an area where one would expect basic medical services to be readily available.

Anne was a short lady and her baby was very large. It was clear that she needed a cesarean section but was left to labor for many hours until she was exhausted. Finally a cesarean section was performed but it was too late. Anne bled to death on the operating room table leaving her husband and six children to mourn her death.

A caring hospital staff working with modest facilities could have easily saved Anne's life. Her death was the catalyst to the creation of the Koutiala Women's and Children's Hospital. A place where women can receive quality health care while experiencing and hearing of the love of Jesus Christ.

Read more about the vision and history of the Hospital in this section.